Bove Chartered Tax Advisors and Accountants are based in Kew East, Melbourne, Victoria.
Their mission statement includes 'Inspiring innovation, educating choices, sharing knowledge and success'. Through Bove's 33 years of service, Vito Bove (Principal Consultant) strongly believes in keeping up to date with technological advancements, ensuring the best outcomes for his workplace and clients.
Keeping up with technological advancements has enabled Bove to increases overall productivity and workplace transparency. Part of an exciting new technological chapter for the company, Vito chose to take productivity and workplace efficiencies to the next level with the support of HDi and Microsoft. The implementation of the HDi screen and Microsoft systems has strongly supported the execution of effective daily planning strategies and staff interaction. With a focus on full work-related transparency, the team's productivity and communication have significantly increased since utilising the HDi screen.
Technology Core supplied and delivered the latest HDi capacitive touch screen (all 86" of it!) mounted on the Australian designed and manufactured HDi electric height adjustable mobile solution. This gives the team at Bove ultimate flexibility to effortlessly roll the screen in for early morning team briefings and then position the solution back in the boardroom for client meetings/presentations.
Using the bonded capacitive touch screen surface (think giant Smartphone) Vito and his team present Microsoft Excel based workflows for the day, interacting with data, zooming in on and inking over key jobs for the day whilst ensuring KPIs are met. By the end of the meeting, the whole team has a totally transparent view on all work within the office, promoting an effective and efficient workplace.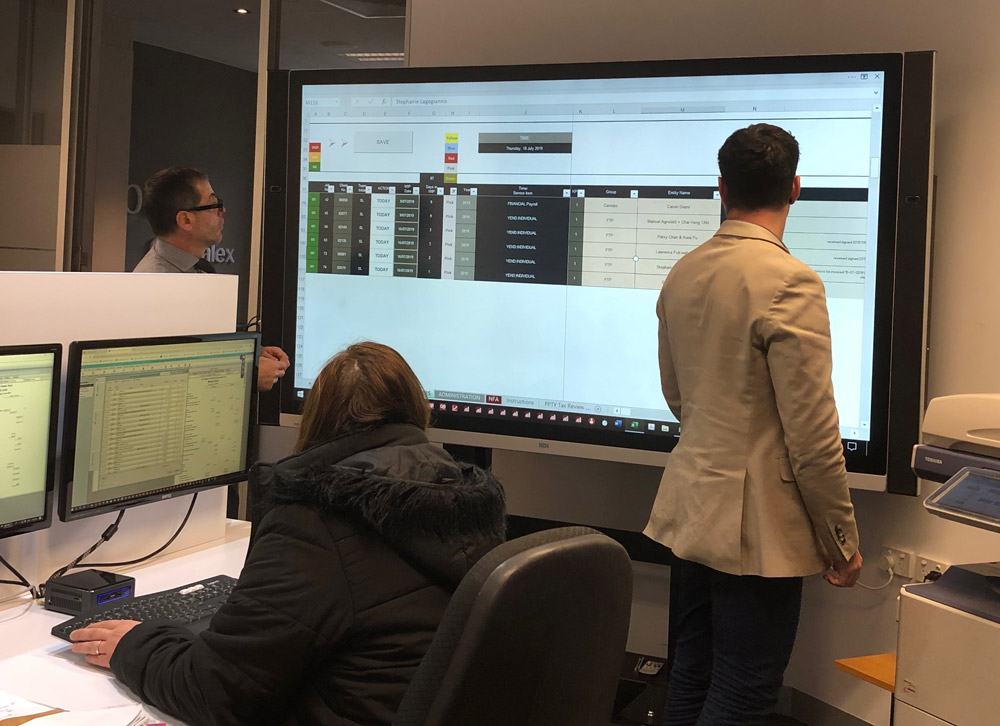 The Microsoft 365 suite works perfectly alongside the HDi touch screen range. The HDi screen's beautiful writing surface and bonded technology delivers a natural surface to ink on, as well as its unique 180-degree viewing angle onto its stunning 4K image.
Vito explained; 'Having the screen in the team meeting encourages team collaboration as well as ensuring each team member takes ownership over tasks as they interact and update job statuses…the HDi screen has been a game changer.'
To top off the technology mix adopted for this exciting new project, the team also utilises the new Airserver Connect. The wireless presentation solution available with the screen to allow any incoming device direct access to present their own content. Now anybody can present to the screen from any device without the need to download an app or look for the correct cable connection. This all saves valuable time.
If you want to find out more on why more and more Australian businesses are turning to HDi for their meeting room technology click here to book a demonstration or visit one of our showrooms.